Let's talk about ugly pies. Specifically, how ugly pies are often the best pies. A few days ago, I made a raspberry rhubarb tart that turned out more green than the bright pink I was hoping for. But the flavor? It was spot-on. Take this pie, a personal summer favorite, with misshapen crust and dark, lumpy filling. Without a double crust, and certainly no lattice top, it was doomed to be un-photogenic. Some summer pies are just meant to be ugly. Leaky galettes, graham cracker crusts that crumble when you slice into them, and mystery fruit fillings that are at once too homogenous and too irregular to look appetizing. Those pies, though, are often the best, filled with the summer's best fruit and baked at home with care.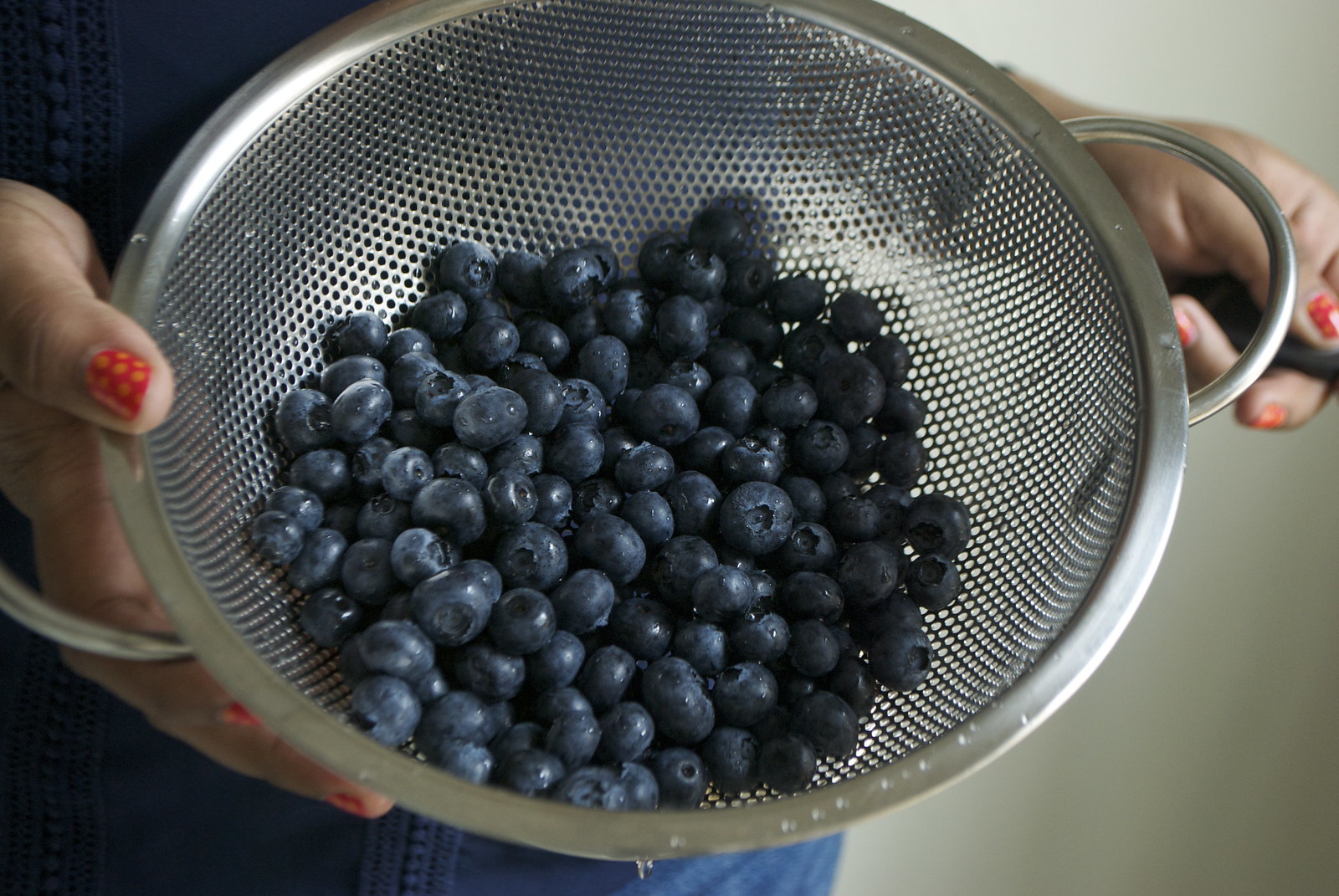 This blueberry pie is no exception. Don't let the photos fool you– this one is too good to skip. Make your way to a local blueberry farm, or head to Safeway to pick up a crate of berries. Bake a pie this weekend. Bake this pie this weekend. Share it with your friends. You'll be glad you did.
This is a variation on a pie that I made several years ago, with a recipe from the depths of the internet. It was the best blueberry pie I'd ever had. It was sweet, sticky, but was bursting with freshness. I've tried to track down the recipe, with no luck. I've found approximations, but never managed to find the original. And the only part of the recipe I remembered was that this blueberry pie was made with equal parts cooked and fresh berries. Here, I try to recreate it, keeping the ingredients and method as simple as possible. Half cooked berries, half fresh, in a flaky all-butter crust. 
Make this one. Oh, and do me a favor? Don't be like me. Weigh down your pie crust with some dry beans before you bake it. It'll prevent a pie crust avalanche and keep things (kinda) pretty.
Fresh Blueberry Pie
Servings: 6-8
Difficulty: medium
Ingredients
For the crust:
1 1/4 cups all-purpose flour
1/2 teaspoon salt
1 stick (1/2 cup) unsalted butter, chilled
2 to 4 tablespoons ice water
1/2 to 1 pound dry beans, to weight the crust
For the filling:
4 cups fresh blueberries, washed and dried
1/2 lemon, juiced
1/4 cup sugar
2 tablespoons cornstarch
1 small pat butter
Directions
For the crust:
Combine flour and salt in a large bowl. Cut the butter into the flour and salt mixture.
Working quickly, crumble the butter into flour using your fingertips or a pastry blender. If the butter begins to melt, chill the bowl in the freezer until it solidifies, and continue to work the dough. Continue until the dough resembles course crumbs with very small pieces of butter.
Add ice water 1 tablespoon at a time, while mixing the dough by hand. Again, work quickly and be careful not to melt the butter or let the mixture warm. When the dough barely holds together, stop adding water and knead just until smooth.
Line your work surface with plastic wrap or parchment, and flour it lightly. Roll dough out into a 1/4″ thick circle, a little wider than your pie pan. Transfer the dough to the pie pan, press it into the pan, and shape the edges, fluting with the back of a spoon.
Line the inside of the pie crust with baking parchment, and pour in the dry beans. The beans will act as a weight during blind baking. Bake at 350F for 20 minutes, or until baked though and golden. Remove from oven and remove beans before filling.
For the filling:
Combine 2 cups of blueberries, lemon juice, sugar, and cornstarch in a saucepan. Stir together until the cornstarch is dissolved. Bring to a simmer over medium heat. Stir and cook until some of the berries have burst, and the filling has thickened to a pudding- or jam-like consistency. Stir in the butter. Allow to cool to room temperature.
Once filling has cooled, fold in the remaining blueberries.
Assembly:
Spoon the filling into the pie crust, and serve cold or at room temperature
Notes:
Pie crust adapted slightly from Martha Stewart's Pate Brisse.
This pie recipe is written for sweet summer berries. For tart berries, increase sugar by 1/4 cup. For bland berries, add juice of another 1/2 lemon.
To make this recipe ahead of time, make both the pie crust and the blueberry filling. Refrigerate the filling, loosely cover the crust with plastic wrap and store at room temperature. Assemble just before serving.